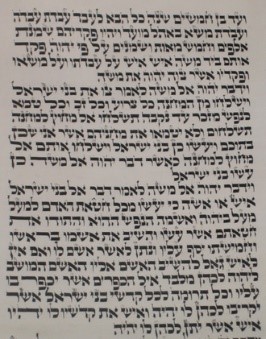 We just read how 1,775 silver Shekels were used for the Vavim La'Amudim – hooks for the pillars in the Mishkan. But did you know that Vavim La'Amudim is a great memory tool that helps a Sofer – a Torah scribe, write a Sefer Torah?
Allow us to explain:
In a Sofer's world, Vavim is the plural of the Hebrew letter Vav, and Amudim are the pages in the Torah. If you open a Sefer Torah, you'll see that the first word on every page begins with the letter Vav (besides for the very first word in the entire Torah, which begins with a Beis – בראשית.) So, Vavim La'Amudim tells the Sofer, "Don't forget! Make sure that each page starts with the letter "Vav!"
See for yourself. Here is a page in the Torah and like all the other pages of the Torah the letter on the top right hand corner is the letter Vav.
So, there are two types of Vavim and there is a fascinating connection between the two:
Vavim – hooks.
Vavim – the actual Hebrew letter Vav, which when added to the beginning of a Hebrew word means "and" (For example: ויאמר "and he said"; וכל – "and all.")
So, just like "hooks" connect one thing to another, the word "and" also connects words together.
BTW: Look carefully at the shape of the letter Vav and you'll notice that it even looks like a little hook!