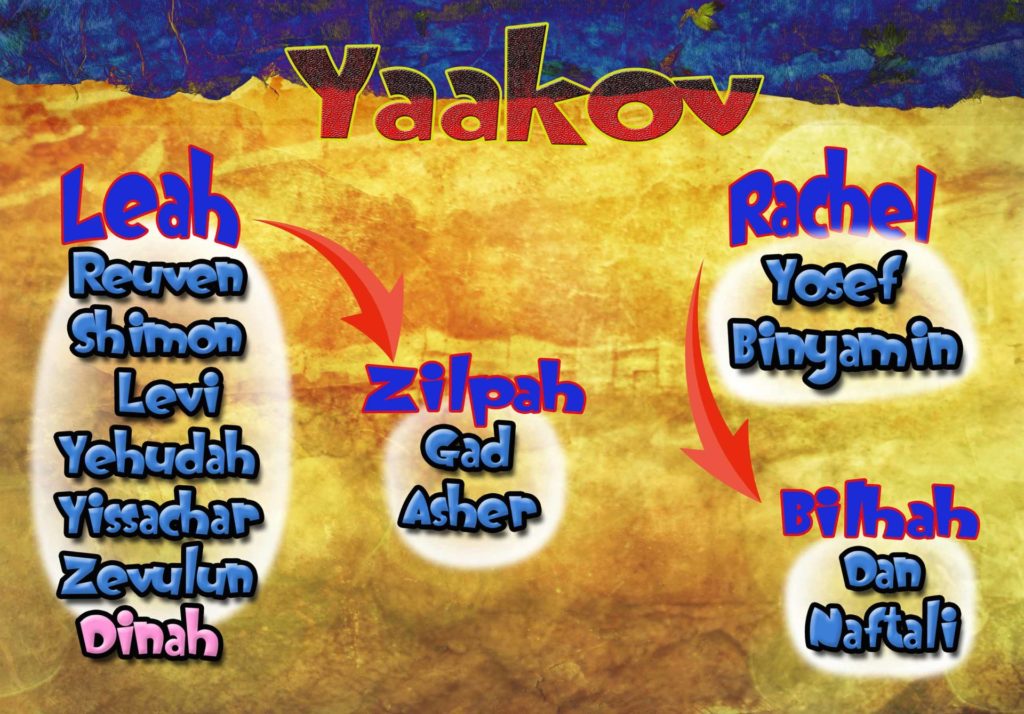 Soon after their marriage, Leah began having children: four sons in a row. She named them Reuven, Shimon, Levi, and Yehudah.
Meanwhile, Rachel had no children at all, which made her very unhappy, and also quite jealous. "Yaakov, pray for me that I shall have children," begged Rachel. "Without children life is meaningless!"
"It is not up to me, Rachel. HaShem will choose whether to bless you with a child," answered Yaakov.
"Fine Yaakov," Rachel said, "but then I want you to marry my maidservant, Bilhah. Perhaps HaShem will then have mercy on me and I will merit to have a family of my own."
Just as Rachel had advised, Yaakov married Bilhah, and she gave birth to 2 sons. Rachel named them Dan and Naftali.
Leah also gave her maidservant, Zilpah, to Yaakov as a wife. Zilpah gave birth to 2 sons, whom Leah named Gad and Asher.
After that, Leah had another 2 sons, Yissachar and Zevulun, and finally, a daughter by the name of Dinah.
Still, Rachel was childless! How much longer could she possibly wait, while everyone else was blessed with children? Finally, after so many years of waiting, Rachel had a son! She was a mother at last! She named her son Yosef. (Eventually, she would also have a second son, named Binyamin.)
By now, Yaakov had quite a large family: four wives, 11 sons, and one daughter. He had established his family in Charan, but they would soon be moving on.