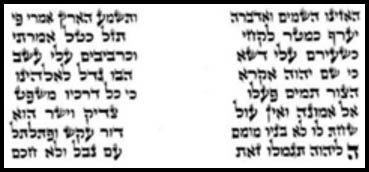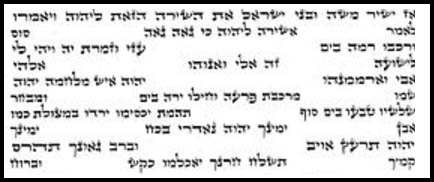 The layout of Shiras Ha'azinu in the Torah is uniquely set up with two narrow columns with a long blank space running down the center – quite different from the rest of the Chumash (which is written in one long column). Certainly, Ha'azinu should be different – it's a song!
Now, compare this to another Shirah – the song that Moshe and Bnei Yisrael sang joyfully after HaShem split the sea for them. The words are also arranged with lots of blank spaces in between, but instead of having two thick stacks of words, our Rabbis tell us that the words are arranged similarly to the way a bricklayer lays bricks – with alternating spaces between the bricks (see the picture above).
Why is there a difference in the layout between the Song of the Sea and the Song of Ha'azinu?
Good question! Do you have an answer?